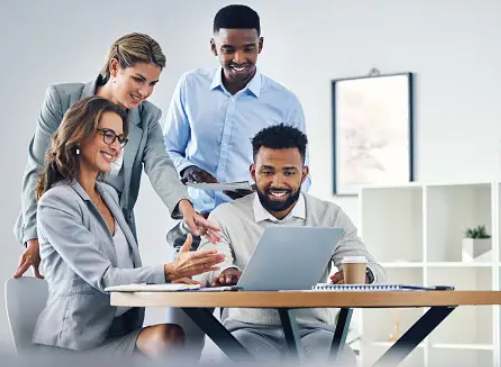 Join us Journey of Digital Transformation and Experience- Empowering Your Human Capital Management
We have a team of HCM consultants who guide organizations through every step of their HR transformation journey, team equipping them with the technical expertise and best practices they need to achieve success with Workday Solution.
You can Improve the efficiency of your HR processes, and reduce operational costs by up to 30% with Workday Solutions to meet your business needs.
Goal Management
Design your workforce with your organization's Initiatives and goals. Align your team from top to bottom by allowing fast company goals. Design Engagement by initiating employees to review, edit, and create goals on their mobile devices.
Career and Development Planning
How to develop good people managers, this solution offers number of integrated talent and career management features which can be instrumental to achieving this task.
Absence Management
Easily track and report time-off and leave requests, balances, and accruals
Payroll
Provides Insights, Flexibility, and control that you need
Performance Management
Initiate and handle global talent from one system. Employees and managers can check their talent by analyzing compensation recommendations with performance ratings by using N-boxes and Graphic charts.
Time Tracking
Helps companies to increase Productivity by workers and decrease namely workers' costs, compliance risks.
Organization Management
Empowering organizations with agility in the face of change. Solution help organizations model business changes, act on data-driven insights, and adjust to evolving market conditions.
Succession Planning
Companies can find good people, develop, and engage big potential and terminate complex leadership gaps. Prepare future leaders, recognize, elect, next and upcoming leaders.
Talent Management
Access to talent and align performance pay and leadership access. You can Increase Engagement, productivity, streamlined automation, results, alignments, and goal management, and many.
Compensation Management
Getting a single system that pays off big. Every team across the organization can take part in compensation review and access the information they need to set the right rewards.
Design & Implementation
Our team's in-depth knowledge and subject matter experts help in designing the most efficient and effective solution for your business needs. Our certified professionals will implement the solution in a cost-effective and timely fashion which will help you in quantifying the returns.
Integration and Data Management
Integration and data management with the cloud becoming the strategic solution from oracle, we implement data and metadata integration between cloud and on-premise applications. A well-designed data integration process can help the business in planning, budgeting, analyzing, and reporting data from disparate sources including your ERP system.
Workday ERP Cloud Assessments
Conducting an ERP health check can provide you with the insight and knowledge needed to make informed decisions regarding governance, opportunities, risks, and investments. During your assessment, our team works with you to:
Application management services can increase productivity, mitigate risk, and reduce time to value. Increased business concerns, complexity, and unpredictability have redefined the concept of application management services (AMS). Enable business transformation through increased speed and efficiency, cost predictability, and continuous operational visibility and monitoring.
Documentation of your business goals
Current IT landscape
ROI calculation
Help businesses to serve our services?
Meeting business needs without service disruption
Lower cost of ownershi
Grow your business by supporting your business
Ensure application control and visibility while reducing costs
We understand the complexity associated with managing different cloud applications and are able to seamlessly support an efficient and secure platform. Helps improve product availability, accuracy, test frequency, reduce maintenance costs, and mitigate risk. Xenon, an automated testing tool, runs tests on all applications and provides results from numerous frameworks. Prioritize by reducing maintenance costs, saving time, minimizing effort, and improving ROI.
Reduce manual entry costs by eliminating errors with invoice visualization, optical character recognition, and intelligent document recognition. Powerful mobile capabilities allow you to authorize expenses and streamline customer payment processing from anywhere.
24/7 monitoring
Security surveillance
Remote system administration
Workday HCM