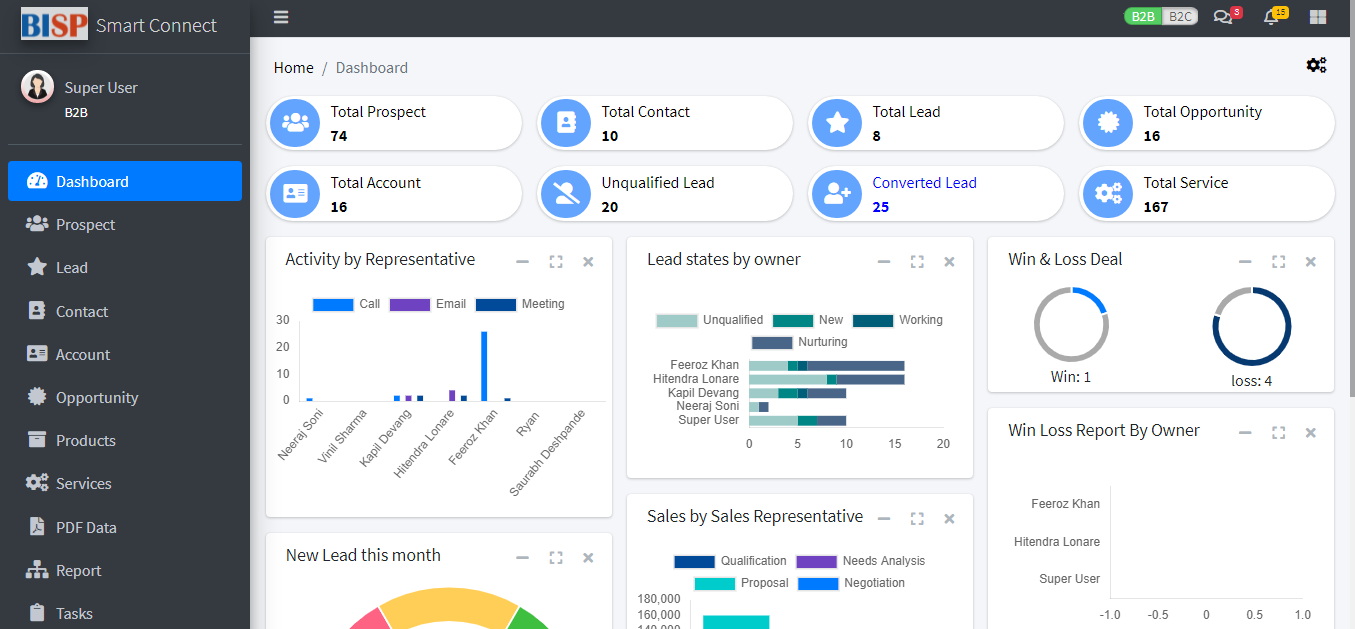 Simplify Sales Automation with Fact Based Decision Making
SmartConnect CRM is developed for small businesses that are still using manual or spreadsheet-based systems in order to manage their sales activities. Smart Connect is one of the most cost-effective and cloud-based sales automation solutions. Through SmartConnect Organizations can simplify daily sales activities, it empowers the sales team with the required sales funnel, pipeline management, sales reports, 360-degree customer view, support for repeat sales, and sales automation. SmartConnect focuses on customer experience as the top sales metric.
Lead Management
It keeps all your leads in one centralized cloud-based system. It helps you manage nurturing and pipeline leads. You can see everything about a lead in one place — no more struggling with tons of emails to find the required information.
Product & Service
Online leads are captured from website custom forms integrated on the CRM Lead Management Dashboard. The newest enquiries arriving from the Website are made available on the dashboard for you to develop a lead management plan.

Conversation
Communication history between sales team members can be tracked. Annotation during sales cycle helps managers to have a closure look of sales follow up schedules and root cause analysis. Business executives can use this communication history in order to identify communication gaps.
COMMUNITY
For getting started
Unlimited Leads
Unlimited Deals
Unlimited Contacts
Unlimited Companies
Product Catalogue
Unlimited Task
Calendar
Basic CRM Feature
Dashboard Reports
Advanced Reports
Mass Email
Bulk Email (250 emails/user(per day))
Role Based Access
SUBSCRIBE
STANDARD
Best for most users
Unlimited Leads
Unlimited Deals
Unlimited Contacts
Unlimited Companies
Unlimited Prospects
Product Catalogue
Unlimited Task
Calendar
Basic CRM Feature
Dashboard Reports
Advanced Reports
Mass Email
Bulk Email (250 emails/user(per day))
Role Based Access
SUBSCRIBE
PROFESSIONAL
For enterprises
Unlimited Leads
Unlimited Deals
Unlimited Contacts
Unlimited Companies
Unlimited Prospects
Product Catalogue
Unlimited Task
Calendar
Basic CRM Feature
Dashboard Reports
Advanced Reports
Mass Email
Bulk Email (500 emails/user(per day))
Role Based Access
SUBSCRIBE
Smart Connect